Find out why companies look out for benchmarks while working on improving employee experience.
What is Benchmarking?
Benchmarking has been defined as "the ongoing activity of comparing one's own process, product or service against the best-known similar activity so that challenging but attainable goals can be set and a realistic course of action implemented to effectively become and remain best of the best".
Put simply, organizations may have certain performance metrics and would want to compare them to know how well they are doing - and this comparison can be done against a reference point internally or externally.
What are different types of Benchmarks?
What is External benchmarking?
Benchmarking to compare the performance metrics with another organization or group of organizations (industry peers, organizations in the same operating region, organizations of similar size, etc.)
The advantages of external benchmarking
Allows organizations to position themselves against competitors while simultaneously identifying areas of weaknesses that need to be prioritized
What is Internal benchmarking?
Benchmarking to compare the performance metrics between different segments within an organization, such as departments, levels of hierarchy, and demographic groups
The advantages of internal benchmarking
Allows organizations to uncover the best and most efficient practices to share across the company
Benchmarking on EngageRocket
You will now be able to see a drop-down option (refer image below) to view benchmarks for:
All Companies

By Industry and Country (for ex: Tech industry in Singapore)
Benchmarks are also available for different types of scores* on the platform:
Overall score

eNPS

Driver score

Question score for Scored Questions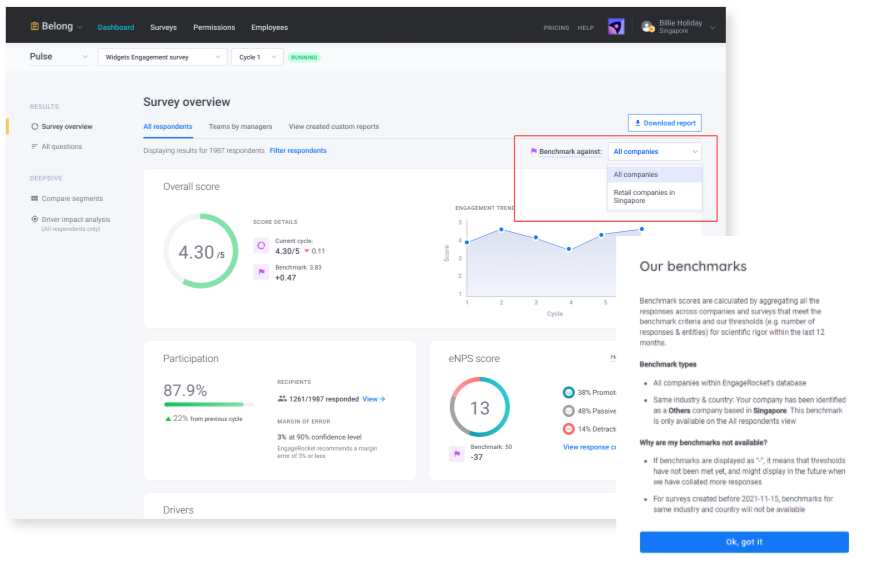 For more details on how to leverage on the Benchmarking feature on EngageRocket, kindly reach out to your Customer Success Manager today, or check out EngageRocket Academy for more relevant reading material.+
*currently not available for favourable scores
**Benchmarks will be available for all new surveys run after 2021-11-15. Benchmarks are based of all companies within ER's database that ran a comparable survey in the past 12 months.