Access all your Surveys information in one place.
Here's a video guide on the Surveys page:
The Surveys page provides a summary of all your survey cycles in the following states:
Unscheduled - Cycles that have unfinished setup
Running - Cycles that are scheduled and started, but have not ended
Completed - Cycles that have ended
To access your list of surveys, click on the Surveys button on the top menu bar. Beyond being a summary of all the surveys, you can also do 8 key actions on this page. Think of it as a 'one-stop shop'!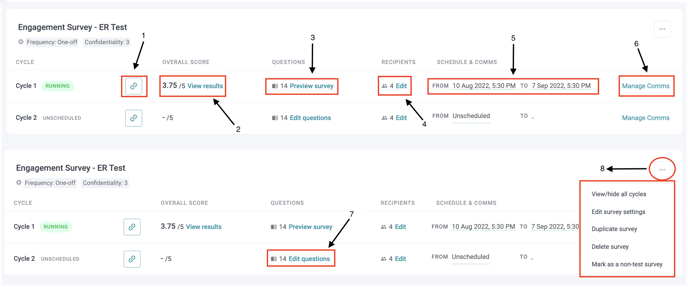 Survey Link - Click Survey Link to get a shareable link to the survey. If the survey is still unscheduled, the link will be a preview of the survey. Conversely, if a survey is running, the link will be to the survey answer page. Please note that this shareable link is only accessible with the employee's unique ID.
View Results - Click View Results to access the Dashboard page of the selected cycle.
Preview Survey - You may preview your questions asked in past cycles here.

Edit recipients - Click edit recipients to add new recipients or remove them from the survey. Please note that if you wish to remove the recipient list from the Running survey, you will be directed to the confirmation below before proceeding to the next step.

Schedule & Comms -

You can edit the start and end date of the survey under this option, (note that the Start Date can only be changed for Surveys that are "Unscheduled").

Manage comms - Click Manage comms to customize the communication for your survey. You can edit the survey invitation, reminder subjects, and messages. Including a QR code (optional) which allows participants to simply scan the code to access the survey. You can add more reminders using the red "+" button or delete reminders. Click here to find out how to Manage the Schedule & Comms for your survey!
Edit questions - This option will only apply if you have the unscheduled survey.
Actions (...) - Click on the icon above Manage Comms, and you will be able to view/hide all cycles (toggling this option will allow you to see past surveys that were initially hidden, and toggling it again will collapse to show the latest 2 surveys), Edit Survey Settings, Duplicate Survey, Delete Survey (note that you can only delete a survey with cycles that are completed), and Mark as a Test or non-Test survey.