Wondering if you can send a survey invite to someone who just hasn't gotten around to getting an email address?
There are several situations in which an employee may not be able to access the survey through our default method, which is a link to our survey via an email. This might be due to the employee not having their own work email address, or not requiring one. Or maybe they are simply saying that they did not receive EngageRocket's email invite to the survey.
EngageRocket has additional features to enhance its functionality, so anyone can take one of our surveys without any hindrance. After all, everyone's voice matters!
Survey administrators can access a generic link unique to the survey to share amongst users so that they can complete the survey without a specific email address.
To access this link, click on Surveys which provides a record of all survey cycles that are either ongoing or completed.
From this page, you can access the magic link for your chosen survey by clicking on the Survey Link icon next to the survey

After clicking through to this page, a pop-up will appear which has a link to the associated survey.

This link can be shared with employees, who will be able to enter via their Access Code.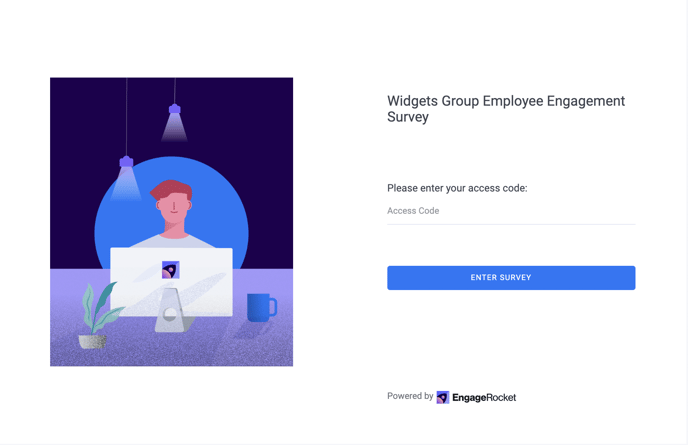 This Access Code corresponds to the employee's Unique ID, which is set up during the process of populating your employee list.
The functionality of using this method of sending surveys to your organisation can be extended in many ways.
Example 1: Retail or F&B outlets with employees without email addresses
Set up computer kiosks at different branches/outlets for employees to use during their shifts. They can login with their Access Code rather than their email and take part in the survey.
Example 2: Communication is predominantly carried out on mobile (more so than emails)
Make use of group chats and messaging applications e.g. Whatsapp, Line, WeChat! You may send this link through these applications for employees to participate in the survey through their own mobile devices.
Should you have any questions during this entire process, feel free to reach out to our friendly customer support team at support@engagerocket.co