Designing the questionnaire for your onboarding surveys.
Once you have completed your onboarding survey settings, you can now design your questionnaire for every milestone that you've set in the survey settings page.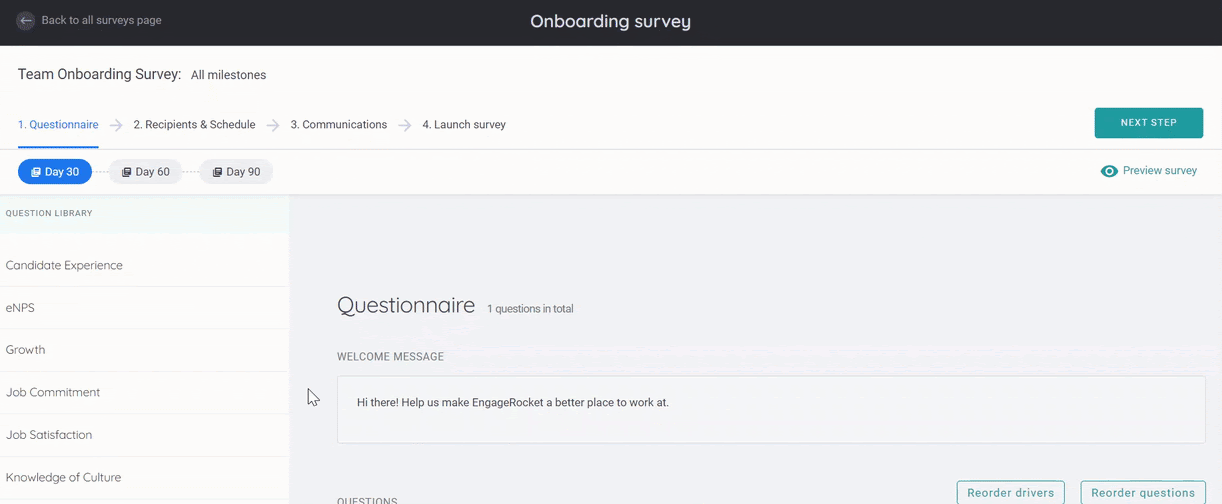 On the left-hand side, you will find that EngageRocket has already provided a library of questions for your reference. Simply click on drivers that resonate with your onboarding milestone's objectives and add the questions to your questionnaire by clicking '+'.
Custom Questions and Drivers
You will have full flexibility to create new Custom Drivers by clicking on "Create new driver" and/or add new questions under an existing driver or the newly created driver.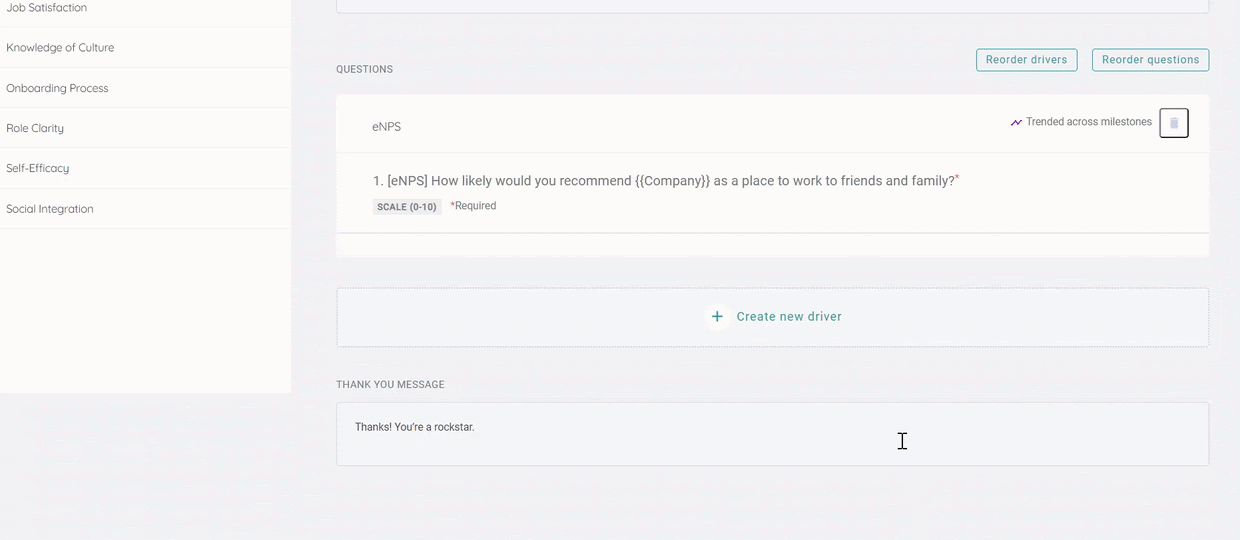 To add a question to a particular driver, simply click on "Add question", input the question and select the question type – scale, open ended, yes/no, or multiple choice.
Pro Tip: You may refer to our new employee onboarding checklist to learn more about onboarding programmes.
Trending Questions
To track the onboarding experience of your new hires, we recommend trending same drivers across the milestones. In order to do so, retain the same driver across all the milestones and our dashboard will trend them it for you.
We recommend trending the following 3 drivers from our question library: eNPS, Job Satisfaction and Job Commitment.
Re-ordering Questions and Drivers
Questions and drivers can be re-ordered according to your preference. Simply click on "Reorder drivers" or "Reorder questions". Then, drag and drop the drivers or questions according to your preference. Click on "Finish" when you are done.
Welcome and Thank you Messages
You will find at the top and bottom of the questionnaire the input fields for your welcome and thank you messages. These messages will appear on the first page of the survey (welcome message), as well as, the last page of the survey (thank you message). You may also use the default template we have provided for you as well.
Here are some examples of welcome messages:
We are excited to have you join us! Help us fill out this short survey so we can know how to help you settle down in our company.

Your opinion matters to us, be heard today!
Examples of thank you messages:
Thank you for taking the time to share your feedback with us. Have a great day!

Your feedback matters to us, thank you for your time.

When you are satisfied with the questions that you've crafted for the selected milestone, don't forget to click on the other milestones to repeat the question design process.
Once you're all set, click 'Next Step' to move onto the next step---Recipients and Schedule.