Learn how to set up questions for your survey.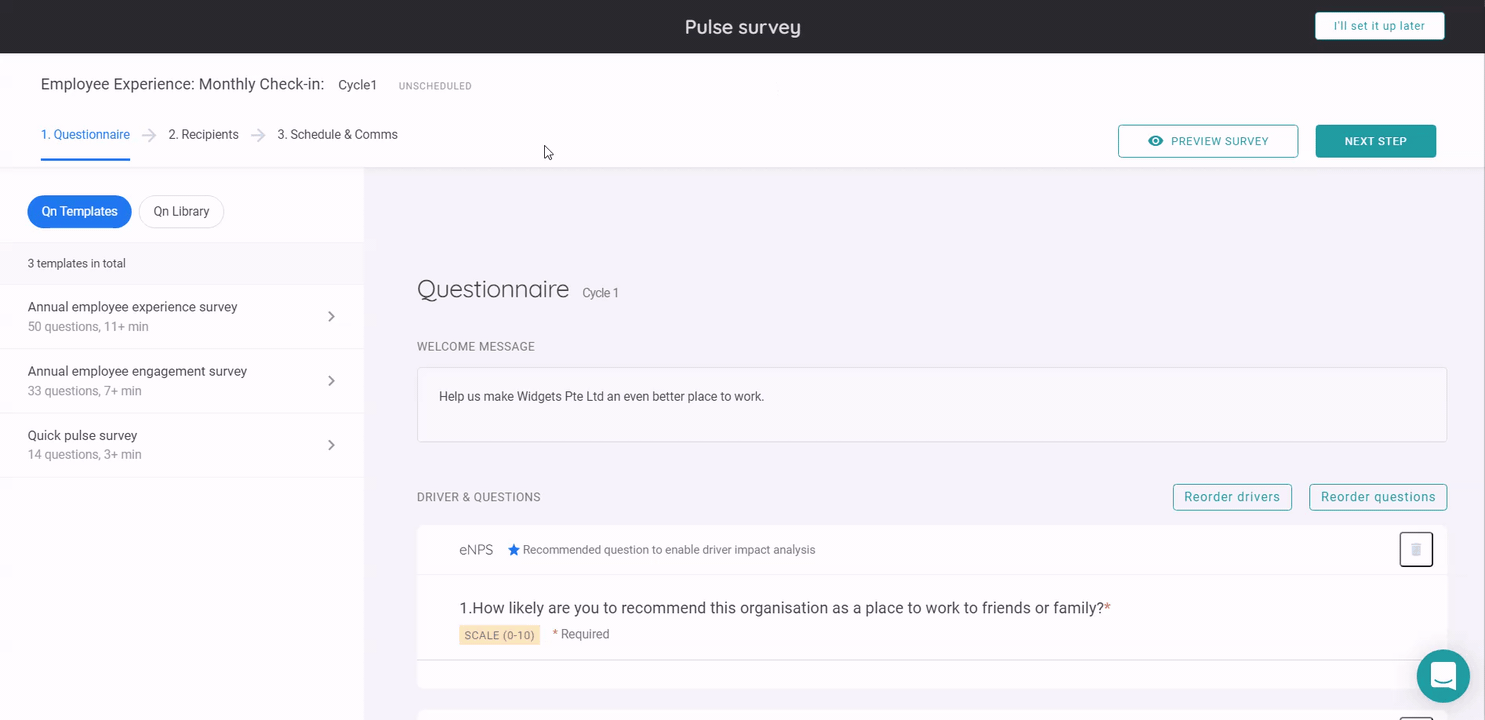 Step 1: Questions
EngageRocket provides 3 questionnaire templates with research-backed questions curated specially by our people science team that we recommend to customers that would be able to give a good indication of employee engagement and promote active listening. We encourage you to use our standard list of questions if you have yet to do a comprehensive research process validating your questions to measure engagement.
Custom Questions and Drivers
You will have full flexibility to create new Custom Drivers by clicking on "Create new driver" and/or adding new questions under an existing driver or the newly created driver. To add a question, simply click on "Add question". Input the question and select the type of question – scale, open-ended, yes/no, or multiple choice.
Re-ordering Questions and Drivers
Questions and drivers can be re-ordered according to your preference. Click on reorder drivers or reorder questions. Then, drag and drop the drivers or questions according to your preference. Click on finish when you are done.
Visibility Settings
You can set up the visibility settings for your Questionnaire and choose whether the following questions will be visible to "All survey recipients" or "Selected survey recipients". This option allows one to show questions to employees that match their attributes, eg business units, countries, tenure, department, gender, or any other custom attribute.
For instance, by choosing "Selected survey recipients" for specific driver questions, you can decide which recipients can view these particular questions (i.e. selecting by Department). Thus, you can dive deep into the selected attribute and there will be no visibility for this question driver to other departments.

Welcome and Thank you Messages
You will find at the top and bottom of the questionnaire the input fields for your welcome and thank you messages. These messages will appear on the first page of the survey (welcome message), as well as, the last page of the survey (thank you message).
Examples of welcome messages:
Welcome to AMCE Engagement Survey. This survey will only take 5 mins to complete and is completely confidential!

Your opinion matters to us, let your voice be heard today!
Examples of thank you messages:
Thank you for taking the time to share your feedback with us.

You are a rockstar! You have completed the AMCE Engagement Survey and may close the window now.
Once you are happy with the questions that you've set, click Next Step to know how to select your participants for your survey by clicking here!